CaseForge
Labeling – Line Production Reporting
Report New Inventory at Point of Production
Whether you're a chicken, fish or any food and beverage producer Coolearth has a report at point of production and labeling solution. Improve your line production and gain full oversight of materials' inventory digitally. Coolearth's CaseForge reporting software is a robust workstation for reporting new inventory at point of production. When combined with our dashboard, product cases and containers are produced as needed and can be optionally interfaced to an ERP system.
✔  Customized labels per item
✔  Different default labels per line
✔  Access to large number of data fields
✔  Printing architecture is configurable
✔  Central database storage of labels
✔  Bartender (or similar) printing systems
CaseForge can solve your point of production labeling and reporting.
◼

 

Easy line set-up 


◼

 

Label print preview 


◼

 

Dynamic printer selection


◼

 

Presets


◼

 

Scale devices by IP or serial


◼

 

Responsive scale inputs
◼

 

Offline mode 


◼

 

Label changes use variables 


◼

 

Upgrade process – build number 


◼

 

Dynamic Filters


◼

 

User-level preference settings
◼

  Advanced p

ermission system 
◼

 

Pack-off positions – auto-palletizing


◼

 

Optional – Scan verification


◼

 

Attribute data collection


◼

 

Various scale modes


◼

 

Production Issuing
Coolearth's CaseForge interface was designed for the line crew and/or manager to quickly pick their orders or items then
case → weigh → and create labels. Our goal is to decrease training time and keep mistakes at a minimum. Done!
Smart CaseForge Setup
Build Your Production Process Lines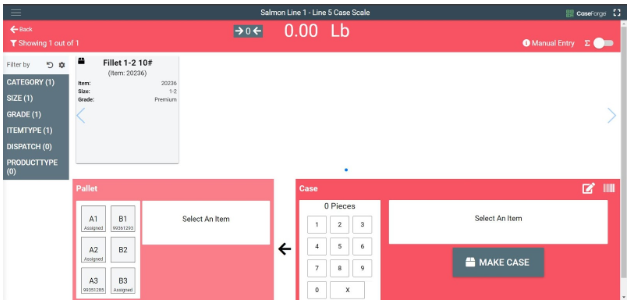 Intuitive Process
●

 

Connect ERP for items, customers and orders data
●

 

Setup lines, scales and printers
●

 

Production Scheduler creates CaseForge orders
●

 

Users select an order/item
●

 

Capture the weight
●

 

Print a label
●

 

Report a product
Line Reporting Simple and Easy.
CAPTURE WEIGHT – BUILD LABELS
Catchweighted/Randomweight Reporting (with or without a palletizer) – Capture weight from a scale and report individual cases with highly customizable labels. Palletizer will generate pallet tags.
REPORT PALLETS
Netweight/Nominalweight Reporting with Giveaway (with palletizer)
 – Report pallets of netweighted cases. Cases can optionally be individually weighted to capture giveaway and has the same case label system as the catchweighted cases. Pallet tags are generated.
GENERATE PALLETS
Bulk reporting Netweight/Nominalweight – Automatically generate pallets of netweighted items with pallet tags. Generic (uncasetracked) case labels may also be optionally printed in bulk (customized with production dates and order/lot information).
REPORT BULK
Bulk Reporting By Weight – Bulk containers can be reported and pallet tags generated. This can also be used for WIP. 
CaseForge can solve your point of production labeling and reporting.