Inspec QA – QC
Automate Your Quality Assurance Data Collection
Free Your QC From Guesswork
Free your QC from guesswork, tribal knowledge and inefficiency with integrated workflow, data collection and analytics designed specifically for Food & Beverage manufacturing. Coolearth's Inspec QA-QC software, along with our consulting efforts and mobile data collection tools which we can integrate, will allow your organization to automate your quality assurance data collection.

Inspec can easily digitize your paper forms and reporting.
◼
  Turn your quality control data into a goldmine of actionable business intelligence
◼
  Reveal trends; deliver cost-saving insights
◼
Integrate Inspec QA-QC with our Whistle™ WMS/SCE system for a complete quality assurance program across your entire supply chain
◼
User-Friendly interface to build custom digital forms quickly
◼
  Quickly quantify what's wrong with one supplier's products, or another vendor's packaging
◼
  Give you the power to mine your data yourself, without costly consultants or ISO audits
◼
Coolearth's Inspec QA-QC captures convenience with state-of-the-art mobile technologies
Inspec QA-QC
Your Reputation On The Line
Inspec can save you time and money by replacing risky, outdated methods with improved efficiency, mobility and process automation.
Even better, it will enable you to identify trends, make informed decisions and quickly resolve issues – without hiring a consultant or committing to an ERP platform.
  in food safety related costs each year.
                  foodborne illnesses each year.
Inspec Forms Designer
Rapidly Build and Deploy Dynamic Forms
At the heart of this solution is a fully customizable document library that enables you to implement what you need immediately and easily meet the needs of your growing operation. Inspec forms offer an extensive list of highly intuitive features and functions that give you unprecedented control and visibility.
●

Automate workflows and actions by role and phase
●

Optional customization of colors, logos, header grid and domain available
●

Form navigation and data entry using only keyboard
●

Lay out controls, options, workflows linked to datasets and specifications
● 

Define and initiate custom actions
●

Rich control set enables full range of user input modes to streamline data entry
●

Comment and upload photos and documentation to specific form items
●

Assign detailed specification types
●

Scoring Engine calculates and assigns a score for any of the specification types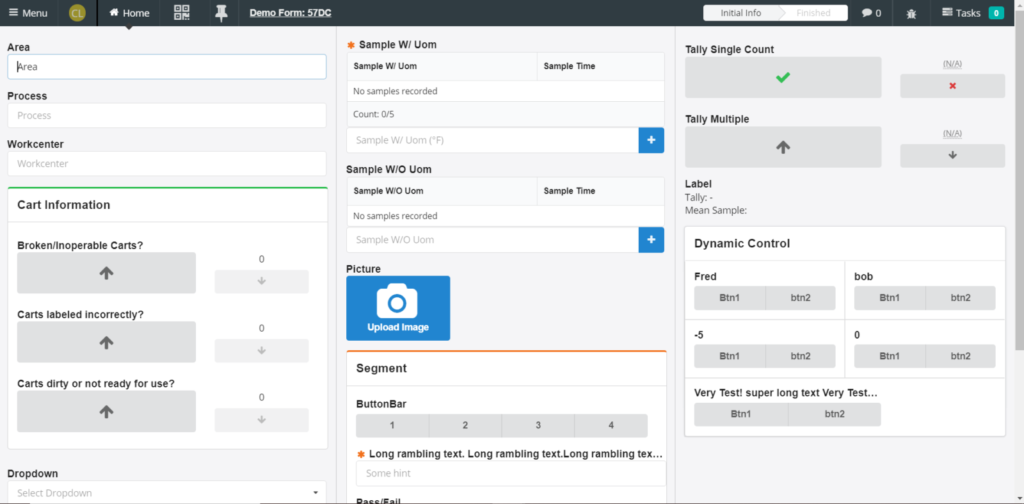 Inspec can easily digitize your paper forms and reporting.
Simple. Scalable. Spectacular.
PROCESS & WORKFLOW AUTOMATION
Quality and process go hand-in-hand. Inspec improves efficiency and accuracy by automating repetitive chores and creating dependencies that trigger appropriate actions in the proper sequence. Minimize keypunches with smart, intuitive, interactive software that supports: automatic data collection from most IP scales and other sensors, barcode readers, bulk data import/export via MS SQL Server and CSV, and more.
METRICS & ANALYSIS
Reveal trends, discover cost-saving insights, quantify recurring issues and turn your quality control data into a goldmine of business intelligence. With the power to mine your own data without costly consultants or ISO audits, you'll reap immediate gains in proactive process improvement, labor efficiency and management decision-making. Now you can know the instant a trend is tipping south in real time – before product failure can endanger the health of consumers, your relationship with customers, or your bottom line.
REGULATORY COMPLIANCE
Fix your filing and audit problems forever. With Inspec, you can have the best HACCP plan in the business, without a single file cabinet. Inspec will revolutionize the way you fulfill specifications and regulations. All data is automatically backed up daily to encrypted storage in addition to streaming all changes to several other servers.
QUALITY ASSURANCE
Enjoy safe, versatile data storage on an industry-standard SQL database for all your quality data: process controls, intake and outgo status measurements, machine conditions, maintenance procedures, food quality tests, environmental conditions, bacterial sweeps… everything.
Inspec can easily digitize your paper forms and reporting.