Coolearth People
100+ Years of Experiences.
Here are some of our Awesome Coolearth People! We think after your read their short bio's you'll agree! Highly experienced, professional and most importantly interesting folks. We're not just employees of Coolearth Software, we're Coolearth People!
Carsten Erickson
Co-Founder, Chairman
Carsten co-founded Coolearth Software along with David Zimmerman in July 1997. With more than fifteen years of experience in the design, development, implementation, and support of manufacturing systems, Carsten has driven the vision and architecture of Coolearth's Whistle SCE solution. Working with customer sponsors, Carsten designed and programmed the first version of Whistle in its entirety, and has overseen its direction with the continued growth of the company.
Before co-founding Coolearth, Carsten was a senior technical consultant at SCT Corporation (now Infor), where he helped Fortune 500 customers install, configure, and enhance the ADAGE ERP system. Carsten worked closely with process manufacturers in several industries, including food, beverages, chemicals, and pharmaceuticals. Carsten also worked as an independent consultant for Weyerhaeuser Company, where he supported computer and network infrastructures, and developed manufacturing software designed to run on touch-screen monitors and handheld barcode scanners.
Carsten studied Physics as an undergraduate at the University of Washington in Seattle. While a student, Carsten started his own companies providing Linux distribution and web-based advertising.
Michael Coleman
CEO 
Michael has been with Coolearth since 2000 and has 30 years of experience in IT and 20 years of experience in Supply Chain technologies. He has traveled three continents to collaborate, implement and support hardware and software solutions for manufacturing and shop-floor production. He has overseen the direction and development of several software solutions from inception to deployment and beyond.
While the focus of much of the supply chain software has been in the food and beverage industry, they have also lead to substantial experience with related logistics, ERP systems, platform integration, business intelligence and infrastructure management. He has been a team leader, project manager, traveling consultant and salesperson for customers big and small.
Michael is a graduate from Washington State University and has had heavy involvement in community service. He has mentored many years of youth activities and served as an emergency responder for local departments. He continues his involvement with several organizations aimed at providing outreach and training to the community.
Celeste Ambrose Ortiz
CFO
Celeste Ambrose Ortiz has worked for Coolearth for the past 14 years. In her current capacity as CFO, HR and Office Manager she handles all aspects of our internal finance, human resources and day-to-day business operations for the Company. Celeste has been integral to keeping our clients, vendors, personnel, state agencies and accountants happy and the business viable and thriving year after year.
Of note, Celeste has successfully facilitated two location moves during her tenure at Coolearth. She has supported and cultivated a changing regime for the benefit of the organization, its clients and personnel. Additionally, she has worked to improve our overall bottom line year after year through streamlining and overhead cost efficiencies.
Prior to coming to Coolearth, Celeste worked in distribution sales in the signage and screen industry for 18 years. With this Seattle base company, she started in Customer Service, worked into Department Manager and was promoted to Branch Manager of their Portland satellite branch. There she was responsible for the day-to-day successful operations of her branch and managed Customer Service, Sales and Warehouse personnel. Her branch was 85% on their monthly goal bonus achievement annually and housed a number of successful, large format Vendor events.
When Celeste returned to the Seattle area to be nearer to family and friends, she branched into Human Resources and Finance for a couple of firms in the Seattle and Bellevue area. She became acquainted with IT/Tech Services working to facilitate H1B sponsored individuals adjustment to the States and their position placement at high level IT/Tech firms in the area.
Along with BA course studies in Business, Celeste has completed Business and Finance certificate courses through both Portland Community College and Highline Community College. She has also completed a significant amount of hours in Psychology mostly out of interest in what makes people tick and a desire for continued learning and self-improvement. Celeste often takes continued education courses and seminars in an effort to stay current and well versed.

When not working, Celeste enjoys music and music events with a nod to the Blues, spending quality time with friends and family, beach getaways, culinary and wine events and giving back to her community through involvement in various charity organizations.
As Oscar Wilde penned, "Some cause happiness wherever they go; others whenever they go". Her life's goal is to predominately be the first of these not the later.
Chris Lott
National Sales Manager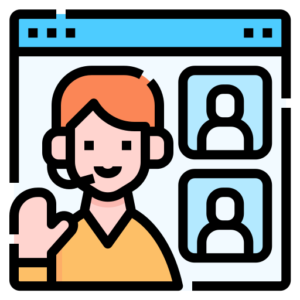 Chris partners with CEOs, VP of Operations, Business Owners and IT professionals solving warehouse, supply chain and quality assurance pains and repetitions. He loves meeting business leaders and learning what they do and their passion for it. He is a recognized leader in sales management and sales engineering being awarded stock options for sales leadership, competitive work and solution designs. He is an adept presenter of complex solutions, simple and easy, but more importantly allowing a company to see where their investment would be rewarded.
As an entrepreneur, Chris has been a Founder and President of a company that manufactured a nationally recognized and awarded line of computer and server products. Starting with only 40K in start-up seed money, he was able to turn this entrepreneurial endeavor into 8M+ revenue annually. Chris designed and implemented a complete warehouse and assembly line process to support the building of 1000+ PC's and servers monthly.
Because of his love for all things sales, service and business, Chris is involved with his local entrepreneurial community as a business mentor within the Kitsap County BE$T program.
Chris and his wife have 5 children, 4 girls and 1 boy. They love family time, enjoy walks, cheering for their children's sports activities and camping in the Northwest.
Scott (Thor) Halbert
Lead Engineer
Thor has been with Coolearth Software for over 12 years and has experience as a Programmer, Engineer and as a Design Architect for software, computer hardware, and communications infrastructure for the last 40 years. Thor has worked for government science, commercial businesses, country governments, telecom and the banking/insurance industry clients including some in the Forbes 50.
Here are some of Thor's highlights:
17 years at Albuquerque Seismological Laboratory (USGS).
5 years at International Management Consulting Company DiamondCluster.
Owned an ISP for 8 Years in Albuquerque.
Wrote a 2D Commercial CAD System for Commodore Amiga.
Thor's interests are science, science fiction, computer science and virtual reality.
Tyler Nguyen
Software Engineer
Tyler has been with Coolearth Software for 2 years as a software developer. He graduated from the University of Washington Bothell with a bachelors in electrical engineering and minor in math.
Previously, he worked as a QA engineer for Samsung Electronics with experience in testing mobile devices. He helped managed the testing phase for the Galaxy S4 and S5 phones and successfully brought them to the market.
After working at Samsung, he went to a coding boot camp specifically to focus on becoming a full stack developer including JavaScript, HTML, CSS, and MongoDB. As a student there, he worked on many personal projects to build his portfolio. One of his favorite projects, was a web application that compares prices between Amazon and eBay to help users find the lowest price. He later worked at a web design agency called Conflare and developed client websites for law firms and jewelry stores before joining the team at Coolearth.
Outside of work he likes to ride his bike, play basketball and board games with friends and family.
Improve processes, digitally collect data and ensure compliance.