Competition in the food and beverage market grows more intense every day. The manufacturers that feed the world are being pushed to provide new products in a low-cost, fast and efficient method. As a result, the profits of successful food processors are heavily influenced by the performance of their production lines. Performance that many times is hard to quantify due to lack of real-time and historical data. This can be a daunting and overwhelming task. A modular turnkey approach may just be the answer.
Is turnkey right for you?
When implementing new manufacturing line projects a modular turnkey solution can be advantageous. Especially in regards to the line scale/weighing, labeling and reporting processes.
Turnkey projects are those in which one vendor provides equipment, line production software and many times installation under one contract. This method replaces the need for in-house technical staff to manage, design / engineer, plant upgrades and product changes.
Some of the advantages could include:
Modular design and flexibility for speed of implementation.
Fastest method for completing a standard labeling and digital reporting project.
Provides the owner with one point of responsibility.
Someone else can make equipment decisions for the inexperienced owner.
Reduces administrative costs by outsourcing the procurement process for equipment components, line design, software compatibility and installation.
Modern production lines are changing.
Modern manufacturing lines handle various kinds of packaging and process needs for a variety of products. As package designs and sizes keep changing, the flexibility of lines has become very important and a challenging factor in the process of line integration.
Factors to consider in line design include:
Machinery and data interconnection methods and specification, including various types of conveyor systems.
Packaging flexibility — which means it can take a wider range of product sizes or material than is needed at the present time.
Communication architecture, machines to act in concert and create a continuous manufacturing line, labeling and reporting.
Evaluate building infrastructure and utilities to assure machine requirements are met.
The right solution at the right price.
In recent years, increasing demands, economics and environmental concerns have placed enormous pressure on production facilities to increase operating speeds, reduce waste, reduce and cut manpower requirements. The correct line turnkey solution can really help here.
With that said, senior executives under pressure to cut costs are increasingly prone to view complex machinery and manufacturing lines as "commodity purchases" available from the lowest bidder. Consultants, like Coolearth, can partner with suppliers to drive machine costs down while also delivering superior production requirements. Delivering the required equipment on-time and on-budget is very critical to a project's success.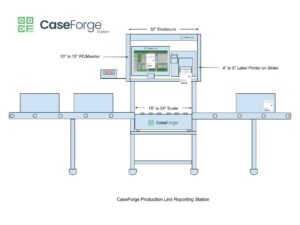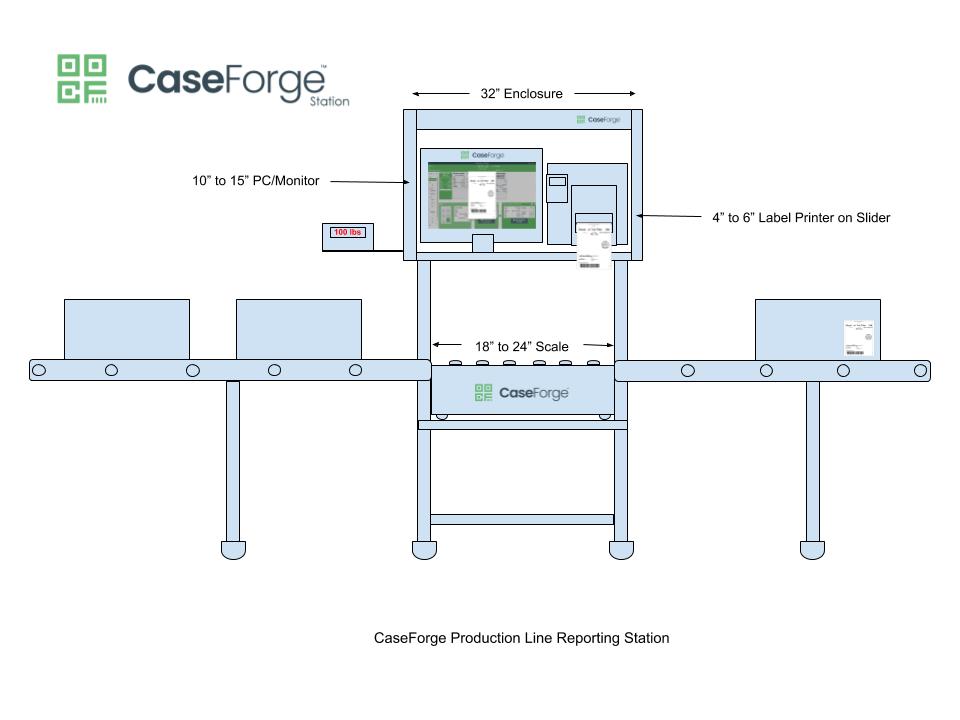 Coolearth's CaseForge Line Production Labeling/Reporting solution can be a great starting point for your organization and upgrading your line quickly. You can combine several elements (software, scale/indicator, controller and printer) onto a stainless steel washdown frame that enables either mobile or stationary use. Allows you to accurately and efficiently identify, weigh, label and report your production. A true all-in-one solution at a competitive price for your production line needs.
It's important to work with a credible solution provider when addressing your production lines needs today and for the future. Using a modular turnkey approach can be a quick way to gain control over your line projects and help the bottom line overall.