Home-brewed warehouse and line production software solutions have been used out of necessity by most processors for years. Not just the small processor either. They typically end up with a mix of in-house designed software, older third-party proprietary systems, (one size fits all many times) spreadsheets and manual-paper integration. Also, resources availability typically become an issue over time with the in-house "solutions" not performing as well either. Maybe really never did. Sound familiar?
The problem is that to stay competitive, real-time warehousing and line production data has to be easily attainable, robust and accurate. It's imperative it handles the complexities a processor faces today with minimal employee hours needed. Ultimately, it should be stand-alone but also modular with a holistic solution purpose for all your needs from harvesting to shipping and everything in the middle.
"The end result was a 50% increase in daily production rates that would have been virtually impossible in a non-digital environment." – McKinsey & Company
A big pill to swallow of course. And, while it would be great to tackle every aspect of your process, it typically makes sense to choose a specific solution/need with the idea that it will work harmoniously with other same sourced modules. Coolearth Software offers just that.
CaseForge
Case in point, one of Coolearth's more popular modules/solutions is CaseForge. CaseForge can improve line production capabilities and gain full oversight of materials' inventory digitally. It's a commercial strength solution for reporting new inventory at point of production and helps with today's complex labeling needs. It also works well with other modules from Coolearth. When combined with Coolearth's Whistle solution, product cases and containers are produced as needed interfacing to a database (ERP, EDI, etc..) for example.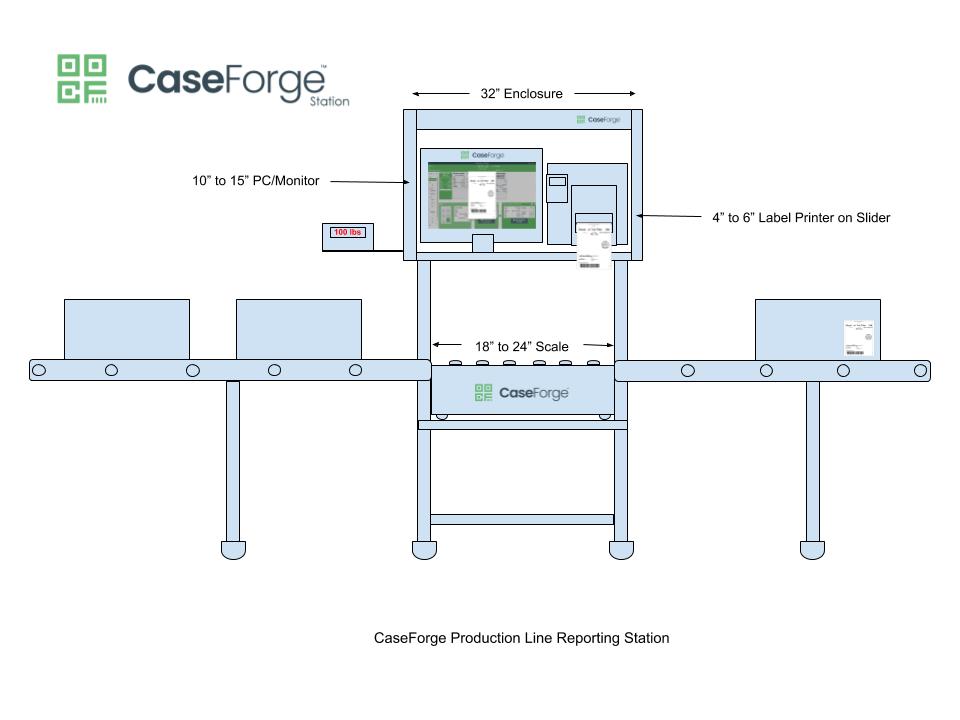 A few of the CaseForge features Coolearth offers:
Catchweighted/Randomweight Reporting (with or without a palletizer) – Capture weight from a scale and report individual cases with highly customizable labels. Palletizer will generate pallet tags.
Netweight/Nominalweight Reporting with Giveaway (with palletizer) – Report pallets of netweighted cases. Cases can optionally be individually weighted to capture giveaway and has the same case label system as the catchweighted cases. Pallet tags are generated.
Bulk reporting Netweight/Nominalweight – Automatically generate pallets of netweighted items with pallet tags. Generic (uncasetracked) case labels may also be optionally printed in bulk (customized with production dates and order/lot information).
Bulk Reporting By Weight – Bulk containers can be reported and pallet tags generated. This can also be used for WIP.
It's not hard to see that CaseForge would be a strong addition to any production line. The fact that it plays well with a string of other Coolearth modules, databases and reporting solutions make it the right choice for most.
The Bigger Picture
While CaseForge is a powerful production line labeling and reporting tool on its own it is also an integral part of a much bigger picture. As you can see below Coolearth solutions interact with each other building a holistic production process from "harvest to shipping".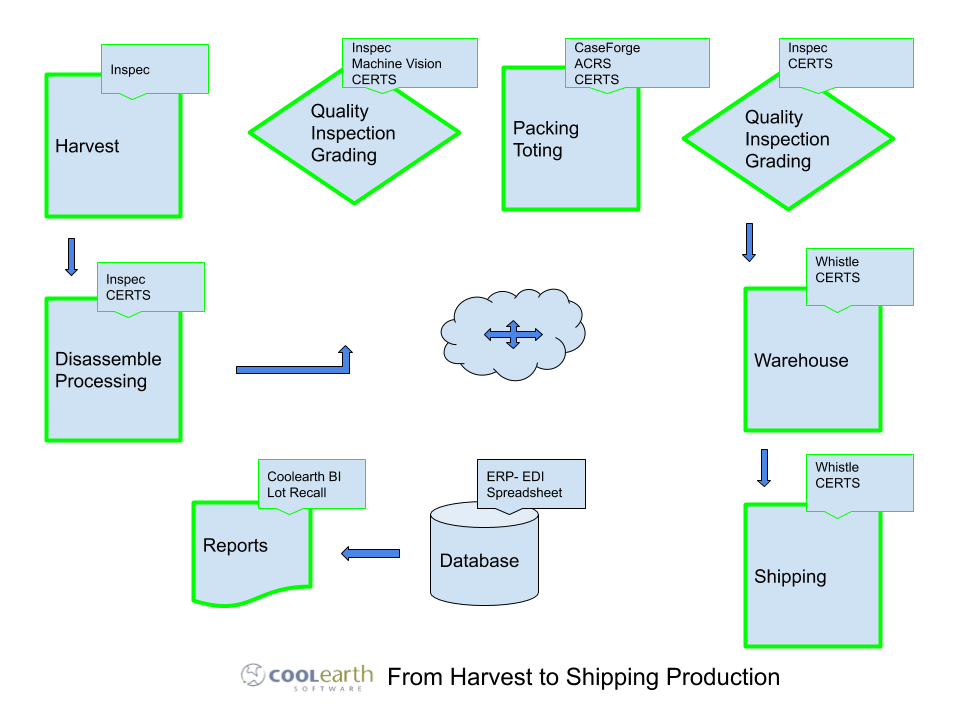 If your organization is starting to feel like the current line production solution has become antiquated, slow, and hard to use it's probably time for a change.
Change is hard, of course, and changing everything at once can be overwhelming. Knowing that a modular holistic approach is available can make things much easier. Coolearth designed their solutions with that in mind. Their 20+ years successful experience proves that this works best.